Sandwich ELISA Protocol (pre-coated)
Sandwich ELISA assays help researchers determine the amount of analyte in their sample and changes in analyte level under different conditions. Below, we have outlayed two Sandwich ELISA protocols for both our kits containing the letters FI & EB in the product number. We also have more tips and protocols on our ELISA Support page, where you can find the link below.
For pre-coated ELISA Kits with FI in the product code
The below protocol is a sample protocol for a sandwich ELISA using a biotinylated detection antibody and streptavidin-HRP. Sandwich ELISAs allow for the detection and quantification of an analyte in a sample by using known analyte concentrations as standards and plotting absorbance of known concentrations vs known standard concentrations. This allows the researcher to calculate the amount of analyte present in their sample. This can be very useful when looking for increases in protein concentration, phosphorylation of proteins or decreases on protein concentrations.
Before adding to wells, equilibrate the SABC working solution and TMB substrate for at least 30 min at room temperature (37 °C). When diluting samples and reagents, they must be mixed completely and evenly. It is recommended to plot a standard curve for each test.
| | |
| --- | --- |
| Step | Procedure |
| | Set standard, test sample and control (zero) wells on the pre-coated plate respectively, and then, record their positions. It is recommended to measure each standard and sample in duplicate. Wash plate 2 times before adding standard, sample and control (zero) wells! |
| | Aliquot 0.1ml standard solutions into the standard wells. |
| | Add 0.1 ml of Sample / Standard dilution buffer into the control (zero) well. |
| | Add 0.1 ml of properly diluted sample ( Human serum, plasma, tissue homogenates and other biological fluids.) into test sample wells. |
| | Seal the plate with a cover and incubate at 37 °C for 90 min. |
| | Remove the cover and discard the plate content, clap the plate on the absorbent filter papers or other absorbent material. Do NOT let the wells completely dry at any time. Wash plate X2. |
| | Add 0.1 ml of Biotin- detection antibody working solution into the above wells (standard, test sample & zero wells). Add the solution at the bottom of each well without touching the side wall. |
| | Seal the plate with a cover and incubate at 37°C for 60 min. |
| | Remove the cover, and wash plate 3 times with Wash buffer. Let wash buffer rest in wells for 1 min between each wash. |
| | Add 0.1 ml of SABC working solution into each well, cover the plate and incubate at 37°C for 30 min. |
| | Remove the cover and wash plate 5 times with Wash buffer, and each time let the wash buffer stay in the wells for 1-2 min. |
| | Add 90 µl of TMB substrate into each well, cover the plate and incubate at 37°C in dark within 15-30 min. (Note: This incubation time is for reference use only, the optimal time should be determined by end user.) And the shades of blue can be seen in the first 3-4 wells (with most concentrated standard solutions), the other wells show no obvious color. |
| | Add 50 µl of Stop solution into each well and mix thoroughly. The color changes into yellow immediately. |
| | Read the O.D. absorbance at 450 nm in a microplate reader immediately after adding the stop solution. |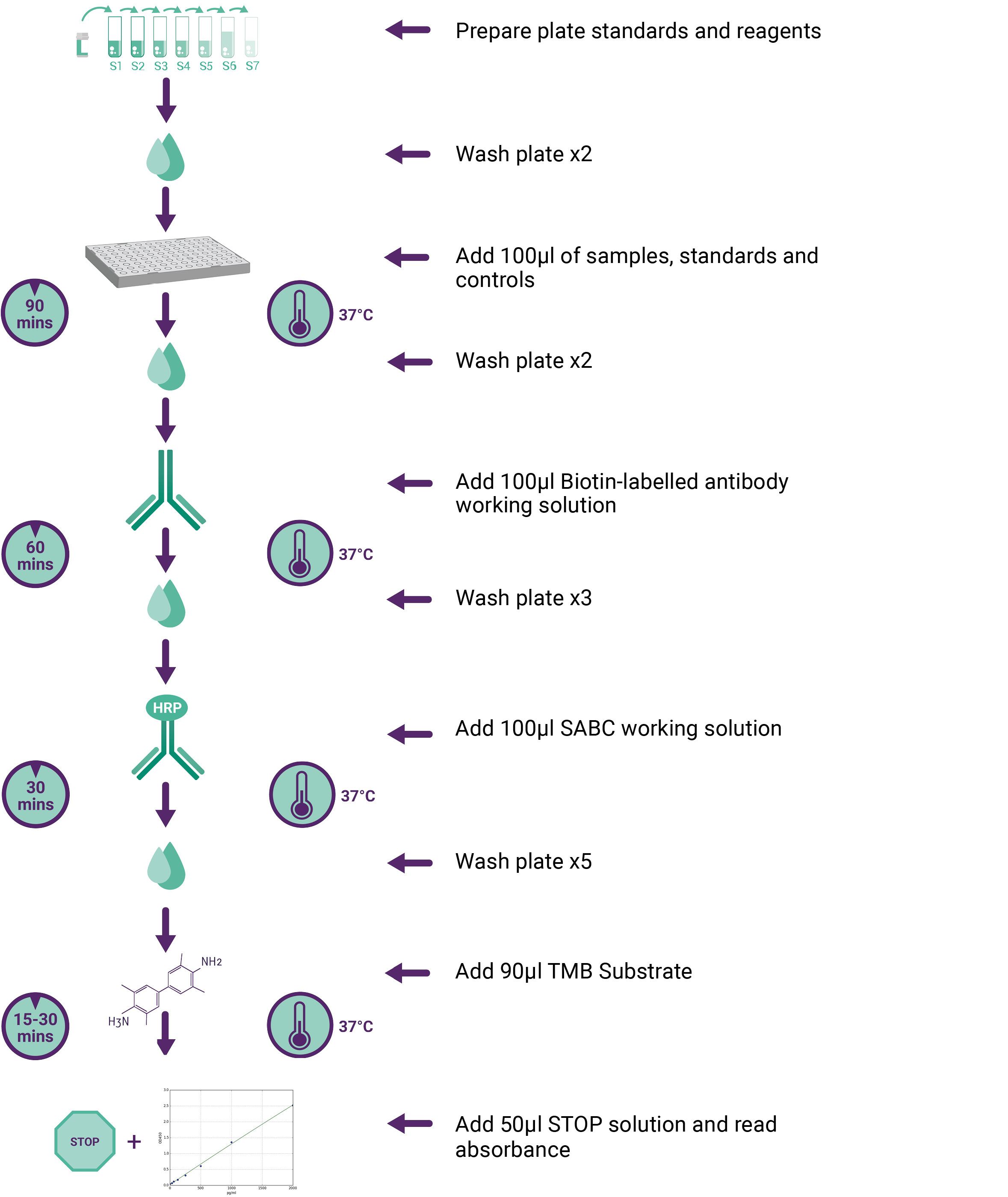 For pre-coated ELISA Kits with EB in the product code
| | |
| --- | --- |
| Step | Procedure |
| | Add Sample: Add 100µL of Standard, Blank, or Sample per well. The blank well is added with Sample diluent. Solutions are added to the bottom of micro ELISA plate well, avoid inside wall touching and foaming as possible. Mix it gently. Cover the plate with sealer we provided. Incubate for 120 minutes at 37⁰C. |
| | Detection Reagent A: Remove the liquid from each well, don't wash. Add 100µL of Detection Reagent A working solution to each well. Cover with the Plate sealer. Gently tap the plate to ensure thorough mixing. Incubate for 1 hour at 37°C. Note: if Detection Reagent A appears cloudy warm to room temperature until solution is uniform. |
| | Wash: Aspirate each well and wash, repeating the process three times. Wash by filling each well with Wash Buffer (approximately 400µL) (a squirt bottle, multi-channel pipette, manifold dispenser or automated washer are needed). Complete removal of liquid at each step is essential. After the last wash, completely remove remaining Wash Buffer by aspirating or decanting. Invert the plate and pat it against thick clean absorbent paper. |
| | Detection Reagent B: Add 100µL of Detection Reagent B working solution to each well. Cover with the Plate sealer. Incubate for 60 minutes at 37°C. |
| | Wash: Repeat the wash process for five times as conducted in step 3. |
| | Substrate: Add 90µL of Substrate Solution to each well. Cover with a new Plate sealer and incubate for 10-20 minutes at 37°C. Protect the plate from light. The reaction time can be shortened or extended according to the actual color change, but this should not exceed more than 30 minutes. When apparent gradient appears in standard wells, user should terminate the reaction. |
| | Stop: Add 50µL of Stop Solution to each well. If color change does not appear uniform, gently tap the plate to ensure thorough mixing. |
| | OD Measurement: Determine the optical density (OD value) of each well at once, using a micro-plate reader set to 450 nm. User should open the micro-plate reader in advance, preheat the instrument, and set the testing parameters. |
| | After experiment, store all reagents according to the specified storage temperature respectively until their expiry. |