Multiplex ELISA
GeniePlex - Mutliplex ELISA
Multiplex ELISA Assays on a Flow Cytometer from ELISA Genie!
Custom and premixed multiplexed bead-based immunoassay panels for use on standard flow cytometers
Phenomenal Sensitivity & Dynamic Range
Very Sensitive: Measure as low as <10 pg/ml of each analyte
Excellent Dynamic Range: Lower limit < 20 pg/mL | Upper limit > 5,000 pg/mL
High Precision & Accuracy: Intra-assay CV: < 10% | Inter-assay CV: < 20% | Recovery: 70-130%
Low Sample Volumes: Use as little as 15ul of sample Validated: All assays fully tested for cross-reactivity in our lab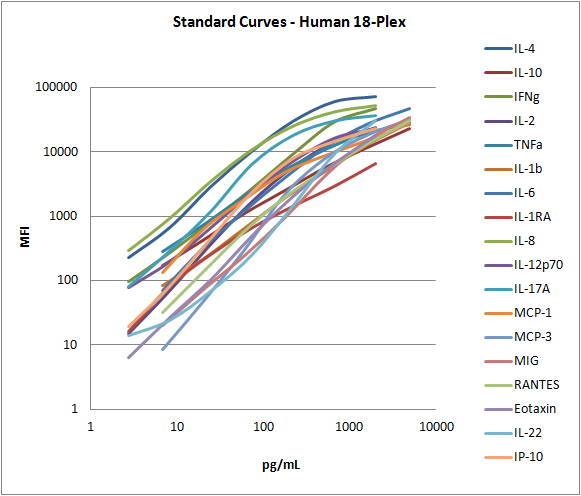 Complete Multiplex ELISA Customization with over 400 targets
Comprehensive Choice of Targets: Up to 400 assays & custom formats available for human, mouse, rat,
porcine, canine and primates
Wide Range of Sample Types: Cell culture supernatants, saliva, plasma, cell/tissue lysates, serum, BALF,
pleural and peritoneal fluids & more
Multiple Formats: 32-well and 96-well sizes available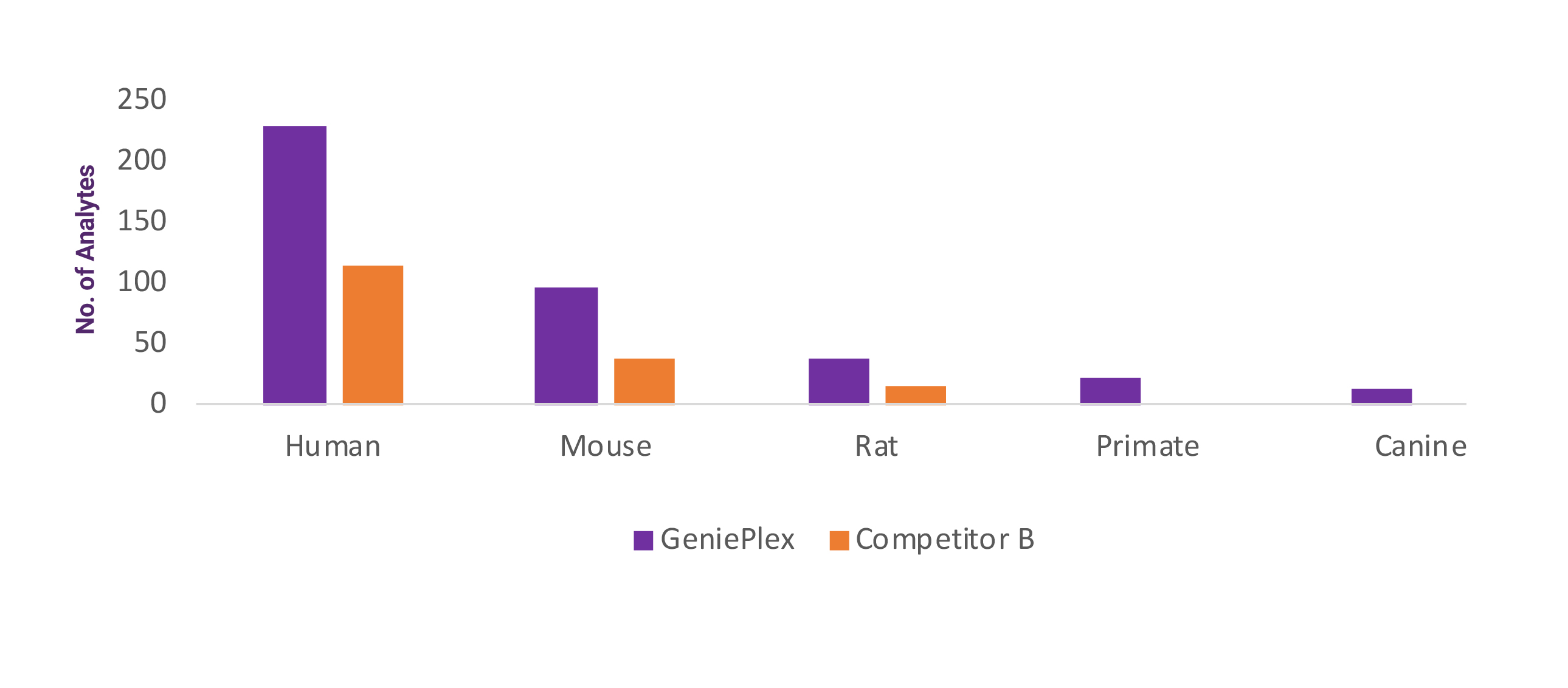 GeniePlex gives you the flexibility to create your own multiplex immunoassays. Whether you work with human, mouse, rat, non-human primate or even canine samples, simply choose your analytes from the species list and we will create your assay of choice. GeniePlex also offers more choice than leading competitors.
Compatible with your existing Lab Flow Cytometer
Use Your Own Lab: Assays can be run on most validated flow cytometers (PE & either PE-Cy5 or APC
detectors)
Free Software: Analyse with commonly available software such as FCAP Software v3.0. Or, send us your data!
Customization: Can't find your analyte in our extensive list? Then just ask our team of experienced scientists to help build your assay
Simple Protocol & Analysis on your Flow Cytometer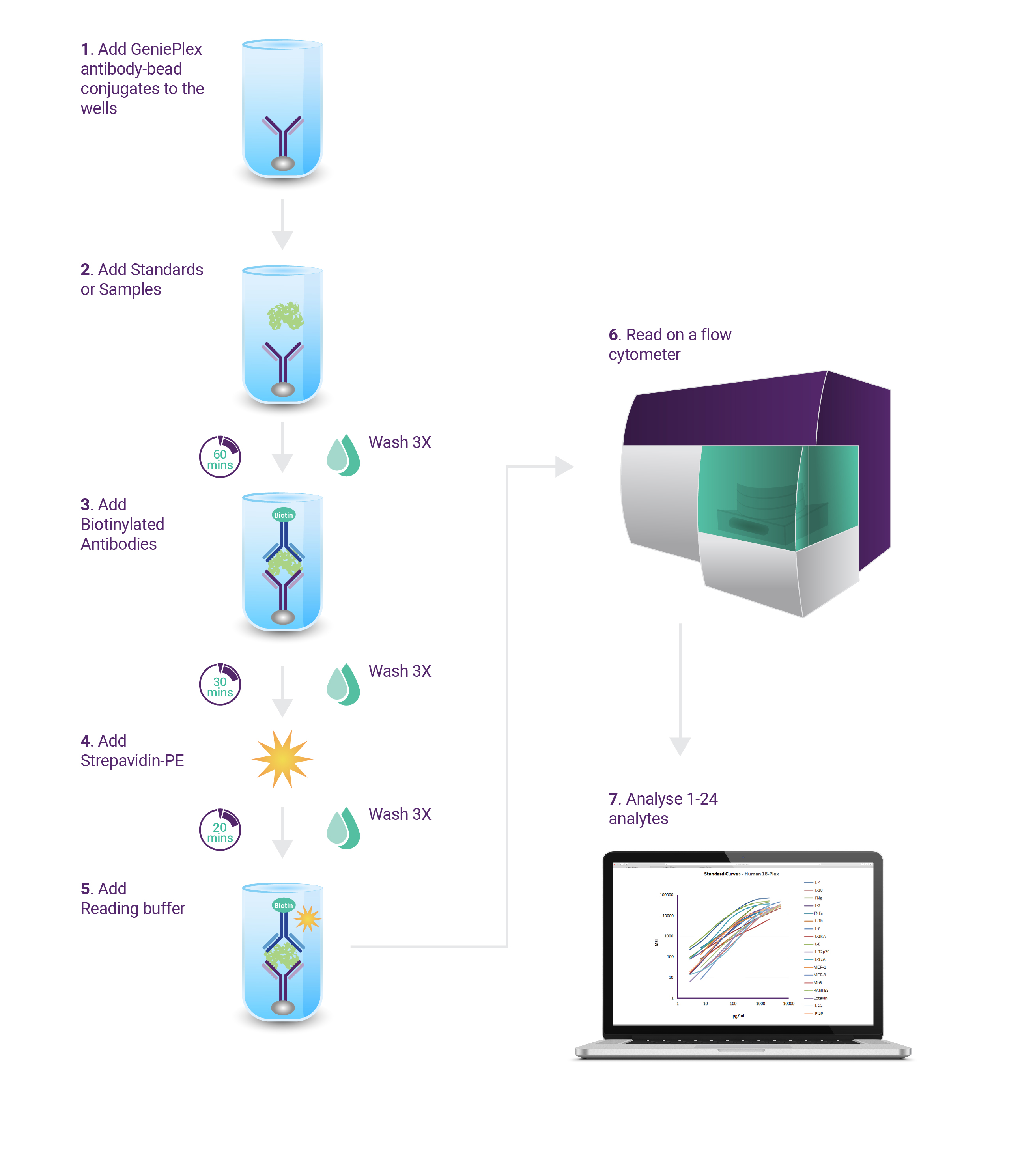 Human Multiplex ELISA Panels

Product Code
Panel Name
Number of Analytes
Analytes

GeniePlex Human T Helper Cytokine 3-Plex Immunoassay Panel 1


GeniePlex Human T Helper Cytokine 3-Plex Immunoassay Panel 2


GeniePlex Human T Helper Cytokine 3-Plex Immunoassay Panel 3


GeniePlex Human T Helper Cytokine 4-Plex Immunoassay Panel 1


GeniePlex Human T Helper Cytokine 4-Plex Immunoassay Panel 2


GeniePlex Human T Helper Cytokine 4-Plex Immunoassay Panel 3


GeniePlex Human Th1/Th2 5-Plex Immunoassay Panel 1


IFNγ, IL-2, IL-6, IL-10, TNFα

GeniePlex Human Th1/Th2 5-Plex Immunoassay Panel 2


IFNγ, IL-4, IL-6, IL-10, TNFα

GeniePlex Human Th1/Th2 5-Plex Immunoassay Panel 3


IFNγ, IL-4, IL-5, IL-10, TNFα

GeniePlex Human Th1/Th2 6-Plex Immunoassay Panel 1


IFNγ, IL-2, IL-4, IL-6, IL-10, TNFα

GeniePlex Human Th1/Th2 6-Plex Immunoassay Panel 2


IFNγ, IL-2, IL-4, IL-5, IL-10, TNFα

GeniePlex Human Th1/Th2 7-Plex Immunoassay Panel


IFNγ, IL-2, IL-4, IL-5, IL-6, IL-10, TNFα

GeniePlex Human Th1/Th2 10-plex


IFNγ, IL-1beta, IL-2, IL-4, IL-5, IL-6, IL-8, IL-10, IL-12p70, TNFα

GeniePlex Human Th1/Th2 11-plex


GM-CSF, IFNγ, IL-1β, IL-2, IL-4, IL-5, IL-6, IL-9, IL-10, IL-12p70, TNFα

GeniePlex Human T Helper Cytokine 14-Plex Immunoassay Panel


GM-CSF, IFNγ, IL-2, IL-4, IL-5, IL-6, IL-9, IL-10, IL-12p70, IL-13, IL-17A, IL-21, IL-22 and TNFα

GeniePlex Human Th1/Th2/Th17 7-plex Immunoassay Panel


IFNγ, IL-2, IL-4, IL-6, IL-10, IL-17A, TNFα

GeniePlex Human Th1/Th2/Th17 8-plex Immunoassay Panel 1


IFNγ, IL-2, IL-4, IL-6, IL-8, IL-10, IL-17A, TNFα

GeniePlex Human Th1/Th2/Th17 11-plex


IFNγ, IL-1β, IL-2, IL-4, IL-5, IL-6, IL-10, IL-12p70, IL-17A, TNFα, TNFβ

GeniePlex Human Th1/Th2/Th17 12-plex


IFNγ, IL-1β, IL-2, IL-4, IL-5, IL-6, IL-8, IL-10, IL-12p70, IL-17A, TNFα, TNFβ

GeniePlex Human Th1/Th2/Th17 14-plex


IFNγ, IL-1β, IL-2, IL-4, IL-5, IL-6, IL-8, IL-10, IL-12p70, IL-17A, IL-17F, IL-22, TNFα, TNFβ

GeniePlex Human Th1/Th2/Th17 18-plex


GM-CSF, IFNγ, IL-1β, IL-2, IL-4, IL-5, IL-6, IL-8, IL-9, IL-10, IL-12p70, IL-17A, IL-17F, IL-22, IL-33, TNFα, TNFβ, TSLP

GeniePlex Human Th1/Th2/Th17/Treg 10-Plex Immunoassay Panel


G-CSF, GM-CSF, IFNγ, IL-2, IL-4, IL-6, IL-10, IL-17A, TNFα and TNFβ

GeniePlex Human Inflammation 6-Plex Immunoassay Panel


IL-1β, IL-6, IL-8, IL-10, IL-12p70, TNFα

GeniePlex Human Inflammation 7-Plex Immunoassay Panel


IL-1β, IL-1RA, IL-6, IL-8, IL-10, IL-12p70, TNFα

GeniePlex Human Inflammation 11-Plex Immunoassay Panel


IFNγ, IL-1α, IL-1β, IL-6, IL-8, IL-10, IL-12p70, IL-27, IP-10, MCP-1, TNFα

GeniePlex Human Inflammation 16-Plex Immunoassay Panel


IFNγ, IL-1α, IL-1β, IL-6, IL-8, IL-10, IL-12p70, IL-13, IL-17A, IL-27, IL-31, IL-33, IP-10, MCP-1, MIP-1α, and TNFα

GeniePlex Human Inflammation 18-Plex Immunoassay Panel


IFNγ, IL-1α, IL-1β, IL-4, IL-6, IL-8, IL-10, IL-12p70, IL-13, IL-17A, IL-27, IL-31, IL-33, IP-10, MCP-1, MIP-1α, MIP-1β, and TNFα

GeniePlex Human Chemokine 6-Plex Immunoassay Panel


Eotaxin, IL-8, RANTES, MCP-1, MCP-3, IP-10

GeniePlex Human Inflammatory Chemokine 7-Plex Immunoassay Panel 1


BCA-1, MCP-1, MIP-1α, MIP-3β, PARC, PF4, RANTES

GeniePlex Human Inflammatory Chemokine 7-Plex Immunoassay Panel 2


IP-10, I-TAC, MIP-1α, MIP-1β, 6Ckine, MDC, MIP-3β

GeniePlex Human CD8+ T Cell Related Cytokines, 14-plex Immunoassay Panel


GM-CSF, Granzyme B, IFNγ, IL-2, IL-4. IL-5, IL6, IL-10, IL-13, IL-15, MIP-1α, MIP-1β, sFasL, TNFα

GeniePlex Human CD8+ T Cell Related Cytokines, 16-plex Immunoassay Panel


GM-CSF, Granzyme B, IFNγ, IL-2, IL-4. IL-5, IL-6, IL-10, IL-13, IL-15, MIP-1α, MIP-1β, RANTES, sCD137, sFasL, TNFα

GeniePlex Human IGF I and IGF II 2-plex Immunoassay Panel

Mouse Multiplex ELISA Panels
Product Code
Panel Name
Number of Analytes
Analytes

Genieplex Mouse T Helper Cytokine 3-Plex Immunoassay Panel 1


Genieplex Mouse T Helper Cytokine 3-Plex Immunoassay Panel 2


IFN-Gamma, IL-10, and TNF-Alpha

Genieplex Mouse T Helper Cytokine 3-Plex Immunoassay Panel 3


Genieplex Mouse T Helper Cytokine 4-Plex Immunoassay Panel 1


Genieplex Mouse T Helper Cytokine 4-Plex Immunoassay Panel 2


Genieplex Mouse T Helper Cytokine 4-Plex Immunoassay Panel 3


Genieplex Mouse Th1/Th2 5-plex Immunoassay Panel


IFNγ, IL-2, IL-4, IL-5, TNFα

Genieplex Mouse Th1/Th2 5-plex Immunoassay Panel


IFNγ, IL-2, IL-4, IL-6, IL-10, TNFα

Genieplex Mouse Th1/Th2 5-plex Immunoassay Panel


IFNγ, IL-2, IL-4, IL-5, IL-10, TNFα

GeniePlex Mouse Th1/Th2 8-Plex Immunoassay Panel


IFNγ, IL-1α, IL-2, IL-4, IL-5, IL-6, IL-10, and TNFα

Genieplex Mouse Th1/Th2/Th17 7-plex Kit


IFNγ, IL-2, IL-4, IL-6, IL-10, IL-17A, TNFα

Genieplex Mouse Th1/Th2/Th17 7-plex Kit


GM-CSF, IFNγ, IL-1α, IL-2, IL-4, IL-5, IL-6, IL-10, IL-17A, TNFα

Genieplex Mouse Th1/Th2/Th17 14-plex


IFNγ, IL-1α, IL-1β, IL-2 , IL-4, IL-5, IL-6, IL-10, IL-12p70, IL-13, IL-17A, IL-21, IL-22, TNFα

Genieplex Mouse Th1/Th2/Th17 16-plex


GM-CSF, IFNγ, IL-1α, IL-1β, IL-2 , IL-4, IL-5, IL-6, IL-10, IL-12p70, IL-13, IL-17A, IL-21, IL-23p19, KC, TNFα

Genieplex Mouse Th1/Th2/Th17 18-plex


GM-CSF, IFNγ, IL-1α, IL-1β, IL-2 , IL-4, IL-5, IL-6, IL-10, IL-12p70, IL-13, IL-17A, IL-21, IL-22, IL-23p19, KC, TNFα, TSLP

Genieplex Mouse Inflammation 5-Plex Immunoassay Panel 1


IL-1β, IL-6, IL-10, MCP-1, TNFα

Genieplex Mouse Inflammation 5-Plex Immunoassay Panel 2


IL-6, IL-10, IL-12p70, MCP-1, TNFα

Genieplex Mouse Inflammation 6-Plex Immunoassay Panel


IFNγ, IL-6, IL-10, IL-12p70, MCP-1, TNFα

Genieplex Mouse Inflammation 7-Plex Immunoassay Panel 1


IFNγ, IL-1β, IL-6, IP-10, KC, MCP-1, TNFα

Genieplex Mouse Inflammation 7-Plex Immunoassay Panel 2


IL-1α, IL-1β, IL-6, IL-10, IL-22, IL-23, TNFα

Genieplex Mouse Inflammation 8-Plex Immunoassay Panel


IFNγ, IL-1α, IL-6, IL-10, IL-12p70, KC, MCP-1, TNFα

Genieplex Mouse Inflammation 11-Plex


IFNγ, IL-1α, IL-1β, IL-6, IL-10, IL-12p70, IL-23p19, IP-10, KC, MCP-1, TNFα

Genieplex Mouse Inflammation 17-Plex


IFNγ, IL-1α, IL-1β, IL-6, IL-9, IL-10, IL-12p70, IL-13, IL-15, IL-23p19, IP-10, KC, MCP-1, MIP-1α, MIP-1β, RANTES, TNFα

Genieplex Mouse Chemokine 7-Plex Immunoassay Panel


Eotaxin, KC, MCP-1, MCP-3, MIG, RANTES, IP-10
Non-Human Multiplex ELISA Panels
Product Code
Panel Name
Number of Analytes
Analytes

Genieplex NHP Th1/Th2 6-plex Immunoassay Panel


IFNγ, IL-2, IL-4, IL-5, IL-6, TNFα

Genieplex NHP Th1/Th2/Th17 7-plex Kit


IFNγ, IL-2, IL-4, IL-6, IL-10, IL-17A, TNFα

Genieplex NHP IGF I and IGF II 2-plex Immunoassay Panel

Rat Multiplex ELISA Panels
Product Code
Panel Name
Number of Analytes
Analytes

Genieplex Rat Th1/Th2/Th17 7-plex Kit


IFNγ, IL-2, IL-4, IL-6, IL-10, IL-17A, TNFα